Ladakh:
Ladakh is a very famous place reminiscent of the mythological Kailash - the abode of Lord Shiva.
Ladakh is a heavenly place. Here snow capped mountains of the mighty Himalayas and the Karakoram ranges reach several thousand feet up to the arch of azure sky. Quaint little hamlets and dilapidated old monasteries are set in the rocky cliffs. The rough winds waft across and the river Indus elegantly meanders through the towering willows and poplars. Leh is one of the most famous rivers in Ladakh region. Leh palace, Shey Palace, Stok Palace, monasteries of Phiyang, Hemis, Thiksey, Likir, Spituk, Alchi, Lakes of Pangong and Tso-moriri are the famous regions to cover. . If you are looking for a n adventurous package, you can also indulge in river rafting, mountain climbing and trekking.
Jammu: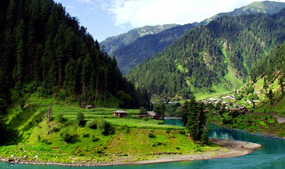 Jammu is situated at the foothills of the Pir Panjal Mountains and it is the southernmost region of Jammu and Kashmir. Ravi, Tawi and Chenab are three famous rivers, flowing through Jammu region. Jammu is full of temples it is all associated with age old myths and Jammu is also home to quaint forts and many quaint forts and splendid places. Goddess Vaishnodevi temple is an important shrine and it is 48 kms away from Jammu.
Leh Palace:
It is the most beautiful valley of Kashmir; it offers different captivating forms and hues in every changing season. The unexplainable beauty of Mugal garden set against the Himalayas is an adorable view. You can find the highest green golf course Gulmarg and it situated at the confluence of the streams flowing from Sheshnag Lake and the river Lidder. Amarnathji is a key pilgrim center in the region, located at a distance of 46 Kms from Pahalgam. Devout Hindus undertake the difficult trek to reach the caves during the months of July-August to see the natural ice-formed icon of Lord Shiva.
Dal Lake: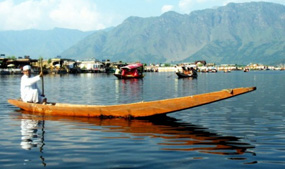 Dal lake of Kashmir is one of the most enchanting lakes in India and also the second largest lake of Jammu and Kashmir state, Dal Lake is surrounded by magnificent mountains on three sides lending it an unearthly charm. Embellishing the banks of the Dal Lake is a number of blooming colorful gardens and gorgeous orchards. Dal Lake changes its ambience and scenery in every few Kms. Shankaracharya and Hari Parbat temples further enhance the scenic beauty of the place. Numerous houseboats are located in the lake.
Srinagar: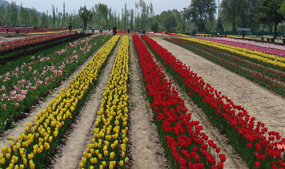 Srinagar is the summer capital of Jammu and Kashmir. The Mughal Emperors were completely overpowered by the charm of the city and today Srinagar looks like paradise on earth. The breathtaking Himalayas, the placid jade blue lakes, the stately conifers, adorable gardens, romantic scenery and awesome religious places are some of the breath taking beauty of Srinagar. The quadrangular plots crisscrossed by pathways intersecting at right angles are a delight to watch. A few notable gardens are - Nishat Bagh, Shalimar Bagh, Chashma Shahi Gardens. Lilly-laden lakes give an unearthly charm to Srinagar.