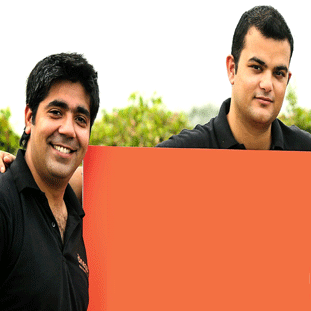 Vivek Kapoor,Co-Founder
Ankit Mehrotra,Co-Founder& CEO
India is one of the largest consumer markets globally, and also one of the youngest with more than 45 percent of its population below 25 years' of age. For the budding teens and the young adults, eating out is a popular form of socializing, contributing to the growth of multiple segments within the expanding market. With Indian food industry having so much to offer, right from buffets to fixed price meals and curated menus, and wine pairings, bento boxes and the rising cool quotient of the Indian street food, the food industry in India is booming tremendously in the recent times. According to National Restaurant Association of India (NRAI), the Indian restaurant market which was valued at Rs 20,400 crore in 2016 is expected to grow to Rs 51,000 crore by 2021. Today, more Indians are slowly warming up to the idea of eating in restaurants, and not just for special occasions. Thanks to the growing wages, the increasing urbanization and the influence of technology on the consumption habits of people, the food service sales across the country is growing consistently. Whether you are looking to make new discoveries in your own city or craving your favourite food, Dineout is one such application which instantly comes to your rescue.
Leading the way to the Concept of Online Table Reservations and much more
Launched in 2012, Dineout is India's largest dining out platform which has helped close to 30 million diners so far discover new restaurants, explore specific restaurant features and enjoy top offers at the best restaurants across top 9 cities; Delhi, Mumbai, Bangalore, Pune, Chennai, Hyderabad, Kolkata, Ahmedabad and Chandigarh. Based out of Delhi, the inception story of Dineout is nothing less than amazing. An opportunity in the clutter of restaurant queues was sensed by a posse of friends - Ankit Mehrotra, Vivek Kapoor, Nikhil Bakshi and Sahil Jain, from the prestigious Modern School of New Delhi, who joined hands in 2012 with a vision to turn their idea into a reality. Soon, the team quit their highly successful jobs and incepted Dineout – their brainchild, their sole passion. Since then, there has been no looking back for the power team of Dineout. Amidst the rise and fall, the online booking platform has just scaled up rapidly to evolve as one of the most recognized service providers in this domain.
"The biggest evolution in the past few years is in the way people are dining out. Restaurants are becoming smarter, and diners are becoming a lot more discerning and demanding with their entire focus on getting the right experiences. Dineout is a strong bridge for great restaurants that wish to connect with smart diners. App based booking numbers have
been on a rising curve ever since the launch of our application, with nearly 80 percent of the online bookings coming from the app. Today, a customer can book a table in a restaurant through Dineout and once they reach there, they can order and can even pay through the application. With 80 percent of our bookings transacting through the app, we have launched in-app payments with over 6500 restaurants across the country. We also offer a 20 percent cashback to our customers if they pay through the integrated payment system, Dineout Pay. From quick meals to family eat outs to gourmet food, we at Dineout, continuously work towards driving unique experiences for the foodie in you," says Ankit Mehrotra, Co-Founder, Dineout.
"Dineout is a strong bridge for great restaurants that wish to connect with smart diners"
The Dineout application is not just recognized for offering discounts but also assuring a table booking and a functional payment system within the app (Dineout Pay) at a good restaurant with discounts ranging from 15 percent to almost 50 percent. Moreover, Dineout also helps the restaurants fill up their off-peak hours by having exclusive offers for its customers. Its products like Gourmet Passport, which offers 1+1 on main course, drinks and buffets across 600 of the best restaurants in Delhi, Mumbai, Bangalore and Hyderabad is a must have premium membership program that any true food lover should try.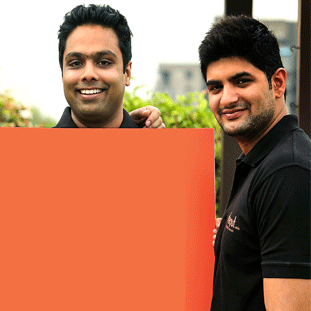 Sahil Jain, Co-Founder
Nikhil Bakshi, Co-Founder
"At Dineout, the company's ambition from day one has been to deliver the best experience possible to the diners, and we believe slowly and steadily we are getting better at this. The smartest diners are embracing our services, whether it is over the application, website or the concierge service," shares Ankit.
Dineout continuously invests a lot of its time, effort and resources into reaching out to the vast network of restaurants and consulting them as their growth partners. The firm is drawing data that will not just enable a business owner to take more informed decisions but also help progress a business through a customer-centric process substantiated by data and insights. "We can call ourselves number one in driving business to our partners – the restaurants. We don't have to manage a fleet of delivery boys and everything is controlled on the app. Hence, there is a lot of transparency in the booking process.
Marching Ahead with a Customer-Centric Approach
Dineout solves an important problem in the user lifecycle journey – 'the discovery to destination for a customer looking to eat out'. With the acquisition of 'inResto', the firm has also added this to its unique range of offerings
and now Dineout is able to provide a complete tech stack to the restaurants, which has fuelled the recent growth. inResto comes with features like table management, reservations, customer relationship management, feedback management and analytics, home delivery and takeaway management. The skilled team at Dineout claims to have over 6,500 restaurants for table reservations, including chains like Azure, Impressario, Olive Group, Massive Restaurants Private Limited and Specialty till date, and with close to 3,000 restaurants using inResto-the complete restaurant operating system, the firm is sure to grow by leaps and bounds.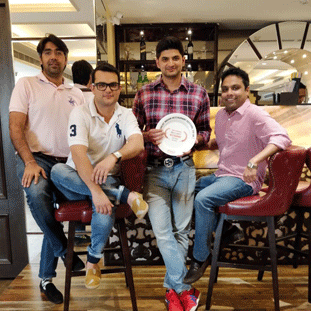 Team DineOut
Speaking about its partner restaurants, Ankit says,"We caterto the requirements of mass brands to luxury dining brands, some of which include Lord of the drinks, Olive, Social, Chillies, Farzi, Mainland China, Soda Bottle Openerwala, Punjab Grill, Mamagoto, The Irish House, Made in Punjab, JW Mariott, Ritz, Copper Chimney, Pullman, Novotel, Lalit, Taco Bell, WOW momos, Theobroma , Chaayos and many more. We assist them through high voltage multi-media marketing campaigns that help them not only get a higher diner count but also provide them massive visibility amongst the top players in the industry. The launch of Dineout Plus has also turned out as a milestone for our Premium Dining Section. We are also working on some new features for the restaurants and it promises to be an exciting journey ahead. We believe that we have a great repeat customer rate, which clearly denotes that our diner finds our services beneficial in terms of saving time and money."
"Whether you are looking to make new discoveries in your own city or craving your favourite food, Dineout is one such application which instantly comes to your rescue"
Throwing light on the future roadmap of the firm, Ankit concludes that, "The journey for Dineout has just begun. We have a long way to go. Our immediate goal is to expand to other cities, introduce new product lines and completely redefine the whole dining out experience. We want to build Dineout into a global brand and see no reason why we should not be able to do that. We want to be the one stop solution for every diner who is looking to go out and have a good experience." As a product Dineout has got a very strong proposition, which not only helps its customers dine out but also helps the restaurants grow their businesses in the way they want to. In the years to come, Dineout's technology solution would be put in restaurants in such a way, so as to completely automate the reservation process at the restaurant's end giving customers and restaurants a smooth and convenient experience.