A visit to Hampi during its heydays inspired a Portuguese traveler, Domingo Paes to pen down the Chronicle of Vijayanagara Kings wherein he compares the exquisiteness of Hampi to that of Rome. Though time turned its grandeur to ruins, Hampi still holds its heritage with over 650 national monuments (ASI) and 54 world heritage monuments, renowned as the UNESCO World Heritage Site. Inspiring people to explore this temple town is Hyatt Place Hampi that renders a seamless &comfortable stay and exploration of the picturesque patterns of monuments in Hampi aligned with its vision – To win the irrational loyalty of guests. Being the first Hyatt Place brand in India, it stringently adheres to the detailed global standards to ascertain quality & service compliance, where every one in its highly motivated team thinks on one's feat.
Reliving History with Ultra Rejuvenation
With scenic ruins of Hampi at its backdrop, this leisure hotel is set amidst nature's paradise sprawling over a lush green landscape with easy accessibility (just a kilometer away from Vijayanagar Airport). Having Adventure Hampi, Amazing Hampi, Divine Hampi &
Leisure Getaway packages, the hotel mesmerizes guests with activities like visiting historical landmarks & exciting spots (Virupaksha Temple, Vittala Temple, Queens's Bath, Aihole, Tungabhadra Dam, Kaladham the 3D Museum which is located adjacent to Hyatt and so on) to thrilling adventures (bicycle rides, bouldering, sunset jam sessions at Matunga hills, hill climbing, coracle rides and many more). Going beyond the footfalls Hampi attains during the yearly cultural festival and long weekends, Hyatt attracts people round the year through promotional offers and by adeptly catering to offsite corporate meetings & conferences, social functions & weddings, and group travel.
Bestowing its guests with authentic services, Hyatt believes in delivering uncomplicated experiences and purposeful services
Bestowing its guests with authentic services, Hyatt believes in delivering uncomplicated experiences and purposeful services. Committed to becoming the most preferred hospitality brand, it offers top-notch facilities like an outdoor pool with a spectacular view, StayFit Gym, in-house kitchen garden with organic vegetables and Heaven on Earth Spa & Salon to rejuvenate its guests. One of its five categories of rooms has a private plunge pool, 24x7 Gallery Cafe with interactive chefs, residential lounge with many indoor games, and an akin-to-other-Hyatt-Hotels, Hyatt Place Hampi also has a
contemporary architecture (clean lines, a signature 'edge', and a porte-cochere with a familiar cut) with the touch points – Arrival, Guestroom, Social Spaces, Events, Drinking & Dining, Activities & Services. It is also adapting to the location's unique characters.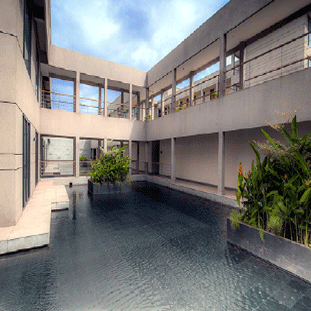 "Since our inception in 2012, we have been on a journey to develop performance management processes to ensure that we don't just welcome guests to our world, but we understand theirs as well," enlightens Ashish Kumar, General Manager, Hyatt Place Hampi, regarding the ideology that fuelled growth in all parameters like room revenue, ADR and RevPAR. Apart from optimizing dynamic pricing strategy, the hotel also increased its revenue by conceptualizing initiatives like Gastronomical Classes for the Ladies, cooking classes for kids and innovative approaches for food & beverage. Working on expanding its F&B menu card and indulging in a 'GO-GREEN' initiative, Hyatt intends to invest in its team to inculcate the Hyatt thinking process and implement various strategies to bring about the loyalty from its guests, while making them great business managers. Hyatt is celebrating & understanding the people, places, and stories that make up each of its guests' lives, thus creating a thriving community