Khanvel Resort: Where Comfort Hugs Luxury to Welcome Weekend Getaways, Destination Weddings & Corporate Jamboree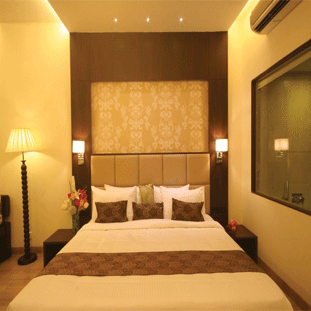 Nakul Jain, Director
Away from everyday, sharing close proximity with Maharashtra and Gujarat, a 25 acre quintessential luxury accommodation creates a charming picturesque of serenity. Nestled in panoramic, plush landscape of Silvassa, Khanvel Resort offers blissful seclusion adorned with comfort, grandeur and scenic charm, thus making it an ideal property for weekend getaways, destination weddings and corporate events. Elegantly designed 175 rooms and 12 banquet halls not only provide luxurious hospitality experience but also enrich one's spirit of eco-tourism and euphoria. "Our close proximity with Mumbai, Surat, Ahmedabad and Gujarat allows city folks to carve unforgettable memories through our excellent availability, hospitality, lavish room inventory and exquisite multi-cuisine flavours," exclaims Nakul Jain, Director, Khanvel Resort.
The resort's locale perfectness and royal setup makes it a true choice for destination weddings and corporate events. The onset of 50+ weddings has badged the resort with stars of excellence. Everything, right from catering and accommodation to event
management, is provided under its two-night destination package. For corporate conferences and training sessions, it leaves no fails for delighted customer experience and equips business events with all technological paraphernalia.

" With no compromise on quality, Khanvel Resort is an epitome for customer-oriented servicing and always keeps its visitor's interest in limelight"

A Trip to Remember
Set up in 1999, Khanvel Resort's unique concept of luxury goes far beyond fancy designs and conventional motifs. It offers six extravagant sojourn options for an opulent vacation. While deluxe, super-deluxe and club rooms are perfect for a relaxing refuse, the santalune deluxe cottages and riverside cottages are classic for those wanting to experience nature at its closest. The contemporary Gulmohar suites are precious and well furnished that never loses sight of mesmerizing beauty. Home to the renowned Warli culture of India, the property is embellished with fascinating designs, cozy interiors and befits all budgets for a comfortable stay. Free Wi-Fi is accessible right from the moment you enter until departure.

With no compromise on quality, Khanvel Resort is an epitome for customer-oriented servicing and always keeps its visitor's interest in limelight. The water park situated within the vicinity enthralls people of all groups while the two swimming pools soothe the monotony with relinquishing splashes. Once you
are done testing your gaming spirit with indoor & outdoor activities, in-house discotheque (restobar) makes you groove on DJ's beat endlessly. Defining the grammar of souled store is its accoutered Spa that extends the invitation for pampering physical and mental well being.

Comforting Memoirs, Thrilling Actions
While a walk through 25,000 mango plantations allures your taste buds, nearby sightseeing options and adventurous trips to Dudhani Lake, Satmalia Dear Park, Butterfly Park and Vasona Lion Safari can be enquired and availed through the resort's contact desk. On the flip side, it also offers airport transfer and check-in facility (at minimal charges) along with providing free cancellation and room extension provision. "If the customer is not able to come on the reserved date, we give them three months extension period for availing stay facility," adds Nakul.

Recognized by TripAdvisor and HolidayIQ for its excellent servicing, Khanvel Resort enjoys 60 percent occupancy in all seasons. It has blueprints prepared for adding another 25 luxurious rooms with private pools, especially modified for high-end customers. Another plan in pipeline is the introduction of app-oriented payment benefit and one-hour away reservation check-in (accessible both online & offline) along with signing tie-ups with tech-companies for easy online reservation system, hence solidifying its hospitality experience.