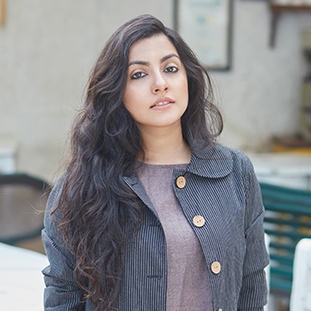 Organic is the new buzzword on the fashion runway. As crowds today revel in the glitz and glam of fashion trends, fashion designers whizz to conjure-up exquisite pieces of unprecedented amalgamations to create earthy and natural vestments to aggrandize new-age life-styles. Owing to its well-reputed stand in the vanguards of the fashion world, a Mumbai based fashion designing company Mati, epitomizes its nonpareil services to this industry. Infusing a natural essence to its production, the company potters-out clothing with seamlessly fabricated Soil's (Mati) cut into the most perfect Silhouettes' (Aakaar/Shape) to bring-out personified embodiments of natural clothing. Compounding natural fabrics that are soft in texture, breathable and yet stylish, Mati assembles customized designs with premium quality woven into a smooth finish.
The brain-child behind company, Fatima K. Punjaabi holds a deep history in the field of fashion designing, polytechnics, pattern making and sewing, also bagging experiences working with several global luxury clothing and other local brands. With these experiences, Fatima founded Mati in 2016 with a keen interest in combining nature and attire as part of her personal style. Branding the company into comfortable silhouettes and exploring natural techniques of surface-ornamentation, the company has earned international recognition for its exotic designs,quality of natural fabrics and its distinct attention to detail.
It further moves along the lines of current fashion goals of minimalism and hence excels in concocting elegant, unique pieces of art with minimalist designs combined with loose, flattering cuts that fit into all body shapes and sizes.
Fatima founded Mati in 2016 with a keen interest in combining nature and attire as part of her personal style
The PETA-Approved Vegan brand further recognizes the significance of sustainable fabrics and elegant designs, and thus works in partnership with handloom industries to produce ready-to-wear garments exemplifying the trending slow-fashion movement. With its organic evolution, the company visualizes, experiments and creates revolutionary results, while maintaining a constant bond with its customers."I stay connected to my individual customers as I learn the fall of my designs on different body types. It helps me in visualizing different designs and experimenting the styles," asserts Fatima.
On the Lines of Fabricating Fashion
While the fashion industry is en route educating benefits of utilizing natural fabrics, dyes and their impacts on the environment, Mati is crowned sole proprietor of launching a fashion-apparel segment representing indigenous diversities of the country. Propagating the significance of this earthen element in her design collection, Fatima avers,"With every collection we launch we dive a little deeper in our own soil to come out with beautiful contemporary designs. And the raw organic feel comes from sustainable and hand-woven fabrics, shapes that are inspired by nature and colors that are earthy and natural". The ritzy features of these products have gained international stardom, thereby servicing customers
through its global online portal, following a standard pricing ranging between Rs.2500 and Rs.9500, and 10-15 days of delivery lead time. Drawing-in buyers across U.S., UK, France, Italy, Austria,Germany, Norway, Sweden, Netherlands, UAE, Kuwait, Oman, Bahrain, Qatar, Australia, Korea, Japan, and more, the company's retail facilities are also available in Mumbai, Chennai, Ahmadabad, Kolkata, and Delhi apart from two production units and its own studio.

Undoubtedly, the success of Mati owes credits to the efforts of its designers who participate in knowledge-sharing industry forums to catch-up with trends in the market. Further, collaborations with exhibitors and curators from various countries for conducting pop-shows, throws open opportunities to gain a better stance in the fashion world. Nevertheless, receiving its Khadi fabric exclusively woven by vendors located in small towns in the North and East of India (production homes), Mati's long and flowy silhouettes woven with natural Khadi were its first successful launches. Moreover, these products when worn never miss a second glance due to the unique designs and patterns that reflect the true meaning of its brand name.

Glaming-up Future Goals on Current Projects

Currently into ready-to-wear comfortable smart casuals, Mati's Couture Line is on the verge of trending soon. With a desire of wanting to showcase concepts and designs on worldwide platforms, Mati witnesses purchase traction from both bulk and individual buyers and looks at more options from UK, U.S., and the Middle-East. Currently growing at a CAGR of over 60 percent, the Mati team is working on a two-year plan, inviting investments from Venture Capitalists and/or Individual investors for a probable growth in manufacturing setup and respective Market coverage.