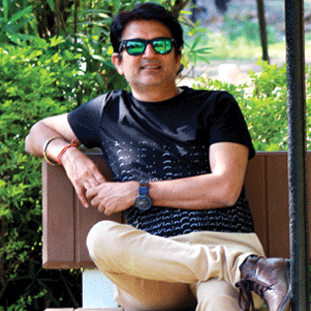 Ravi Tripathi, CEO
To break the Gordian knot of monotonous life, Gujarat is an ideal destination with its unique locations and picturesque natural surroundings. Vananchal,a jungle resort situated at the border of the dense forest of Jambughoda Leopard Sanctuary, Vadodara, proffers a perfect and ideal getaway from the city life to the calm and peaceful habitat of the jungle. A visit once to this vicinity will definitely help make new discoveries about oneself and create a mood of an enchanting holiday.
With interspersed flora & fauna, the resort is surrounded by rich Teakwood forest, which is adorned by over 51 species of birds and several wildlife animals like leopard, spotted deer, hyena, blue bull, antelope, pythons, king cobras, owl, dragon bat and several others. Magnetizing family holiday seekers, corporates as well as adrenaline junkies, the resort offers lots of adventure activities like Rappelling, Rock Climbing, Jungle Safari, Trekking (to waterfalls during the monsoon), Flying fox, Water & Body Zorb-in, Leopard sighting and night
trekking, besides organizing games like Badminton, Cricket, Volleyball, Housie and Horse riding.

" Magnetizing family holiday seekers, corporates as well as adrenaline junkies, the Vananchal offers lots of adventure activities"

Unmatched Hospitality with Protrude Amenities
Welcoming its guests to the world of pure Indian hospitality and enhancing their experience, Vananchal, spread in an area of 400 sq kms of forest, spells the route to a perfect family holiday destination with 26 A/C rooms (21 Golden rooms, three Cottage Rooms & two Deluxe Suite), swimming pool, and recreational area, which have been designed keeping in mind the basic needs of convenience and comfort with luxuries. It proffers local sightseeing packages, experience of the natural habitat and the world heritage centre - shaktipeeth of Pavagarh with an amazing cable car ride to the top of the mountain. Offering an excursion tour to Jand Hanuman, Sukhi Dam, Kada Dam, Dev Dam, Makhaniya Parvat, Kevadia Dam and Jharwani Waterfalls, guests can enjoy a full day picnic with packed lunches. Its lush green lawns are perfect to conduct any personal or professional events like Pre Wedding shoots, Weddings, Birthday Celebrations, Anniversaries, Outdoor training programs, Conference and Seminars.

Illustrious Attributes
Sagvan, Vananchal's Multi Cuisine Restaurant, understands the needs, taste and preferences of the guests quite well. "We serve exquisite cuisines via unique menus with a touch of the local food & flavors like Makai ka Rotla with Lahsun ki chutney and aamras during the season, one of my favorites," remarks Ravi Tripahi, CEO, Vananchal. Also catering to the new generations' taste buds through Punjabi, Chinese and Continental Cuisines, it has buffet spread in the restaurant for Breakfast & Lunch and live counters by chefs with unique cook-your-own-BBQ option on village style sitting arrangement. Special Candle light and flower arrangements are organized on Machan for anniversaries & valentine. Endowing its guests with a unique experience of outdoor breakfasts, high-tea snacks in natural surroundings of the forests, dams and the water front lakes, Vananchal stands out from others and is sure to remain in the memory for life.

With such exceptional traits to its name, not only families but big corporates like LIC, Schneider, LG Dealers Association, Sun Pharma and CEAT choose Vananchal Resorts over others. It renders services to corporates at special rates with special reference to the outbound training conference. Appreciated by people and recognized with the Certificate of Excellence by Trip Advisor from 2015-2018, the company is expanding its wings in Gujarat with more resorts and luxurious facilities near Narmada River Front.