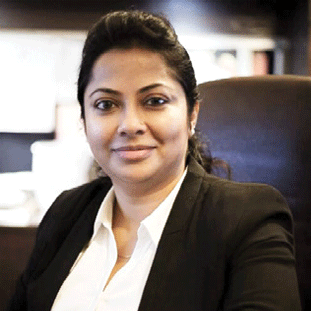 Tanushka R Lall
Head of Hospitality HM
The hospitality industry,incontemporary times, offers a wide range of products – right from luxury hotels, budget hotels, and mid-market hotels to bouquet hotels and many more. They cater to varied needs such as business, relaxation and leisure time meetings, conventions, exhibitions and social events. While there are innumerable hotels of all sizes and prices, yet the question is,do all these hotels offer and meet the expectations of their customers? The most common answer would be'No'! Guests today require a great real estate product combined with a genuine dependable service. This needs to be offered at a price that guests see value in and are willing to pay. Established in 2010, HM Suites & Studios takes pride not in the several awards that it has received for its outstanding service to its customers, but with the smile of each and every employee that goes the extra mile to delight the customer, every time!
Set up in Bengaluru, HM Suites & Studios is crowned with the suitable amenities which feature
Standard rooms, Deluxe Rooms, Luxury Rooms and Four Suites(clutter of all rooms with a lounge)with all the comfort and facilities that are light in the pocket. Being a budget friendly firm, HM Suites & Studios has been designed to meet the entire modern day travelers' need. Featuring 18 Standard room and 7 Luxury Suites, HM Suites & Studios is built to make you feel at home either you are on a business trip or on a vacation. Every room is equipped with essential facilities such as Air Conditioning, Safe Deposit Lockers, Tea and Coffee maker, Mini Bar, Hair Dryer, Handpicked Essential Oils Bathroom and other major amenities.

" Featuring 18 Standard room and 7 Luxury Suites, HM Suites & Studios is built to make you feel at home either you are on a business trip or on a vacation"

"We don't believe in compromising on the basic premise of the property. Hence, all rooms are tastefully designed with wooden flooring and wooden wall cladding with display of original artworks. Our rooms are simple, elegant and gracefully embellished with attractive aesthetic interiors that are meant to make you feel home. Every room has the whole spectrum of amenities like free Wi-Fi, TV/DVD, and mini-bar to make the stay satisfactory. Our Standard rooms are well appointed with a welcoming ambience, while our Deluxe rooms are enabled with luxury features. And, for those who can afford a little more for the
extra frills of life, the Luxury rooms with extended gardens or scenic views possessing a great luxury ambience can be the best match," adds Tanushka R Lall, Head of Hospitality HM, HM Suites & Studios.

With service apartments gaining popularity across tier-1 cities, HM Suites & Studios has been continuously striving to service corporate that have been with associated with the firm for more than a year now. "Our esteemed list of corporate includes Ernst & Young, 3M India, Anand Bazzar Patrika, Maruti Suzuki, Wruth Electronics, Mitsibushi, ABC Consultants, Apollo Munch, Sical, Gokaldas Exports, Moodys, Siemens, SOTC, Novobone, Radio one,Tata Consultants and many more. We believe that our customers are our prized possession. Theey are the ones who have been patronizing us over the years and made us successful," shares Tanushka.

With average room revenue priced as 3500 INR and 90 percent occupancy marked at all times, today, HM Suites & Studios reflects significant growth and achievement. With a mission of pursuing excellence, acting with integrity, embracing change, and serving the world, HM Suites & Studios is looking forward to increasing its portfolio with many more such Aparthotels, Budget Business Hotels in the coming years.