Recognized as the land of rituals and mystical customs, deep-rooted beliefs followed by vivid traditions, India is a land of travel for all people. Whether it is the banks of the Ganges in Rishikesh, unique Ghats of the Varanasi, unexplored religious spots at the high range of the Himalayas, Lord Buddha Footprint and preaches at Sarnath & Bodhgaya, Ajmer Sharif Dargah in Ajmer, or Lord Mahavir Moksha place at Pawapuri, every nook and corner of the country is dotted with significant pilgrimage sites dedicated to different religions. And the journey to these holy sites is considered a lifetime achievement, thus empowering the pilgrims with peace of mind. Noticing the immeasurable faith of the people visiting the holy sites, Holy Voyages plunged into the travel space with a vow to help the devotees achieve a wholesome experience in their pilgrimage journey.
Hailing from Varanasi, Prashant Verma, a software engineer and Santosh Singh, a registered tourist guide with over 12+ years in the travel industry decided to merge their cumulative experiences and set a new venture in the travel domain. The main reason behind establishing Holy Voyages was to provide pilgrimage focused packages instead of any regular one. To launch a startup in an unfamiliar industry was one of the most difficult things. But the duo did it with the right approach. They leveraged the rich experiences garnered from the tourism industry to understand the requirements of the pilgrims coming for various rituals, and were able to acquire more information and converted it into a systematic format and aligning it with the modern web world.
Sharing the inception story, Prashant says, "Belonging to a pious city, we were accustomed to the rituals taking place on the day-to-day basis. Identifying that though the majority of the population was Hindu, still there were multi-religious groups like Buddhism, Muslims & others. We felt the need to protect & promote our culture. Also, foreseeing the need to aid pilgrims with the required information on each ritual, timings and customized package while ensuring that effective measures were taken to prevent pilgrims from being cheated by unauthorized agents, we established Holy Voyages – a platform for holy trips."

Best Services, Utmost Customer Satisfaction
Founded in 2010 with a vision to start something extraordinary and be a major source of information for pilgrims, Holy Voyages endeavours to connect all the religions to a common platform. Starting with the primary services of arranging purohit and car rental services, the company is today specialized in rituals, festival & eco-tourism packages and is the only hub for knowledge & information for pilgrims. Striving to proffer services of high quality combined with enthusiasm & energy, Holy Voyages extends a complete package to its pilgrims starting right from good heritage hotels to stay, flexibility in performing rituals, events & others. The company arranges facilities such as tourist guides in many languages, boat rides, sailing Ganga, Tour Cabs facilities, Priests/Monk/Maulvi for personalized rituals and various preaching/sermon activities and takes women traveller's security as the key concern.

Giving an example, Prashant avers, "We have served Steve Waugh, the former Australian captain who came to Varanasi to perform the immersion of ashes - last rites of his friend Brian Rudd. We made the complete arrangements starting from pick up, stay, drop, and an arrangement of the priest to conduct the ritual successfully with guidance in every step."

He further adds, "We have done similar things in Bodh Gaya.During the visit of Dalai Lama last year we served hundreds of devotees with
accommodation,meditation centres, and so on. More over, we have tied up with the Buddhist Monastery in Sarnath to spread knowledge on Buddhism in India."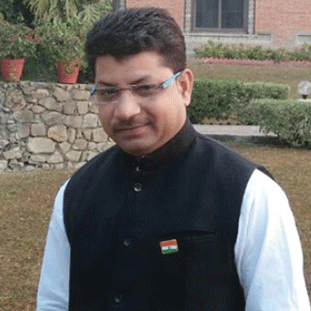 Santosh Singh, Sales Head & Co-Founder
Acclaimed as DMC & MICE company at Varanasi, Holy Voyages looks forward to serve pilgrims throughout India with its wide array of offerings such as Ashes Immersion, PindDaan, Rudra Abhishek, Mangala Aarti in Kashi Vishwanath Temple & so on along with acting as a support system for donors with respect to clothes, food & others. For the upcoming Ardh Kumbh Mela, we have tied up with various tent service providers to accommodate the large section of pilgrims at an affordable cost.
Unique Vision
Holy Voyages envisions setting an exemplary change in religious tourism, right from rendering root level information, to providing customized packages along with Do's & Don'ts activities. With an excellent team of IT professionals, content writers, and tour operators, the company has been able to set its branches in Delhi, Bodh Gaya, and Lucknow while having channel partners in Rameshwaram, Chennai, Calcutta, Gujarat & other cities. As a member of Indian Association of Tour Operators (AITO) & American Society of Travel Agents (ASTA), Holy Voyages tries to promote cultural exchanges. Explaining on the future growth, Prashant mentions, "We will be adding new categories like Buddhist Tour in India, PindDaan Services at last homage spots in Gaya, Varanasi and also heritage walk sites in Delhi. In the coming years, we are planning to expand our reach to unexplored destinations of South India, North East, Nepal, Bhutan and other Asian countries.