With its waterfront esplanade, wide boulevards, enduring pockets of French culture and architecture, and a popular ashram, charming Puducherry - whose name officially changed from Pondicherry in October 2006 - is nothing like anywhere else in South India. That's barely startling - the former French colony was settled in the early 18th century as a colonial enclave and it retains a mildly Gallic air superimposed on a typical Indian background.
Karaikal Beach:
A great fishing hamlet nearby, a boating club, a beach resort and a perfect view of the rising sun. What more can expect or want from a beach? All this can be experienced by just visiting the Karaikal beach. The other mesmerizing sight is that of the Arasalar River meeting the Bay of Bengal.
Manakkula Vinayagar Temple: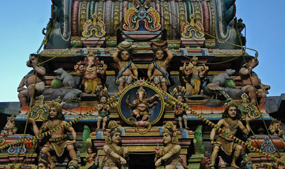 Don't miss the opportunity to watch tourists, pilgrims and the curious get a head pat from the temple elephant who stands outside Sri Manakula Vinayagar Temple, dedicated to Ganesh and tucked down a backstreet just south of the Sri Aurobindo Ashram; the temple also contains over 40 competently painted friezes. To sample some great Madurai style architecture and elephants being dressed and readied for ceremony, this small temple could prove to be an interesting visit.
Matri Mandir (Temple of the Mother):
The overpowering trait about the Matri Mandir is the 30 meter golden globe perched on the ground with petal like structure rising towards it. The reason behind the exotic shape of this structure, reportedly, is designed to hold maximum amount of energy contained in it. And what makes it even better, is that this place is that it's not religious in nature, it's spiritual.
Sri Aurobindo Ashram: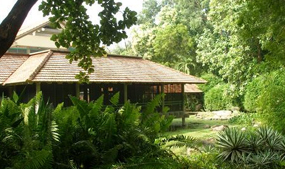 Established by Sri Aurobindo - the poet, scholar, writer and mystic, in 1920, the Ashram is a serene place where thinkers, students, disciples and members of all communities can participate. It's like a world that exists by itself. There are cottage industries, farms, gardens, libraries and other units within the Ashram that contribute to its own little internal thriving economy.
French Quarter: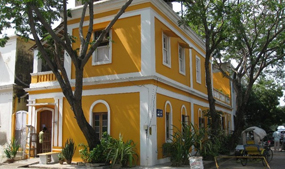 If you want to glimpse streets with French names laid out in a boulevard style on a perpendicular grid, the French Quarter is the place to visit. Separated into 2 sections from the bygone times, the Tamil section is called Ville Noire (black town) and the French side is called the Ville Blanche (white town). Take the famed Puducherry heritage walk and discover the heritage buildings of this area. It's lane hopping time! Start at the north end of Goubert Ave, the seafront promenade, and wander south, past the French consulate and the Gandhi Statue.
Turn right at the town hall on Rue Mahe Labourdonnais, past the shady Bharathi Park. From there it's a matter of pottering south through Dumas, Romain Rolland and Suffren Sts. Focus Books sells heritage walking trail brochures.