Jaisalmer:
Said to be right out of an Arabian Nights fable, Jaisalmer is a remarkable sandstone city that rises magically from the sand dunes of the Rajasthan desert. Jaisalmer's mesmerizing ancient fort, built in 1156, is perched high on a pedestal overlooking the city. Inside, the fort is alive and spellbinding. It houses five palaces, several temples, and some exquisite havelis (mansions), as well as shops and other residences. Jaisalmer is a giant sandcastle with a town attached with emblem of honor in a land of rough and tumble.
Jodhpur: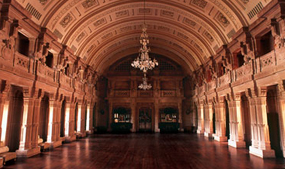 Beyond the 16th-century border, but it's the immediacy and grandeur of the old city, once a stop on a vital trade route, that has more and more travelers raving lies proper Jodhpur. The charming, walled old part of the city is presided over by the looming Mehrangarh Fort. The sprawling Umaid Bhawan Palace, the graceful cenotaph of Jaswant Thada and the alluring Madore Garden are the pride of Rajasthan.
Ranthambore National Park: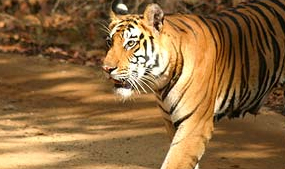 This national park is 1334 sq km of wild jungle scrub hemmed in by rock-strewn ridges. The landscape is dominated by the formidable 10th century Ranthambore Fort. It's a huge structure that contains ruined pavilions, splendid monuments, and dotted close are ancient temples and mosques, crocodile-filled lakes, chhatris (cenotaphs) and hides. The park was a maharajas' hunting ground till 1970 - a curious 15 years after it had become a sanctuary. Ranthambore National Park is full of history, having witnessed many battles played out on its land, and the rise and fall of many rulers. The chances of spotting a tiger in the wild at Ranthambore are amongst the best in India. In contrast with many national parks in India, Ranthambore is very accessible and easy to get to.
Pushkar: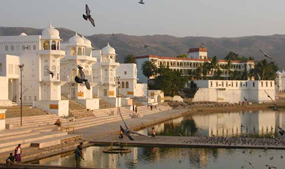 Brahma dropped a lotus flower on the earth - so say the epics - and Pushkar floated to the surface. This pond-sized Hindu pilgrimage town is a magical desert-edged place, with one of the world's few Brahma temples. Rows of sacred Ghats front a mystically compelling lake, where hundreds of milky-coloured temples and weather-touched domes sit under an irregular, pale grey sky. For most of the year, Pushkar is a heavy-eyed little holy town that attracts a lot of backpackers and hippie types. Pushkar really comes alive for a couple of weeks in October/November, when the Pushkar Camel Fair comes to town. It's a fascinating and peculiar sight, and a great opportunity to witness an old traditional style Indian festival. Pushkar is worth a visit at any time of year though if you want to chill out
Jaipur: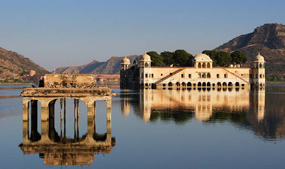 The "Pink City" of Jaipur is huge, crowded, and deafening. However, it's a city full of charming primeval palaces and forts, with most of them daring dramatic views and elaborate architecture. Jaipur is part of India's popular Golden Triangle tourist circuit, and lures guests with its stunning remnants of a bygone era. A visit to Jaipur will give you an experience of how the monarchy once lived in all its glory. Staying in Jaipur is also particularly enjoyable. The city has some unbelievable heritage hotels that have been converted from old palaces, giving guests a very regal experience!
While at Jaipur one must see the architectural marvels like Hawa Mahal, Amber Fort, the Observatory, Jal Mahal and Jaigarh Fort - all of which bears authentication to the tremendous technological capabilities even in ancient India and offer glimpses of the grandiose lifestyles of Indian Maharajas.
Udaipur:
An enchanting place filled with old mansions, striking precincts, intricate temples, and majestic palaces overlooking expansive glistening lakes - Udaipur is in every sense worth the travel of miles. The City Palace, which stretches along the eastern shore of Lake Pichola, leaves visitors awestruck. The way it has been constructed is exquisite, with Rajput military architecture and Mughal style decorative techniques both combined together. The narrow lanes of the old city are fascinating to explore.
Udaipur is the Dream City of Rajasthan. It is often referred to as the landscaped city and is fondly called the "Venice of the East" .The Palace Museum, Sahelion ki Bari, Jag Mandir, the temples of Nathwada and Eklingji stand as witnesses to the hoary past. An evening boat cruise in the Lake Pichola - will take you around the stupendous forts, grandiose palaces and havelis and this would be an unforgettable fairytale experience.