Delhi SightSeeing Places
Delhi SightSeeing Places
Qutub Minar
The old pillar made of red sandstone rising to the height of 72.5mts is an architectural marvel of the 13th century. Also a must is the visit to Ashoka Pillar dating back to the 5th century. The whole pillar made out of iron . A very interesting belief is assigned to this pillar- Stand with your back to the pillar, and if you can hold your hands around it, then make a wish and it will surely come true.
Delhi SightSeeing Places
Jama Masjid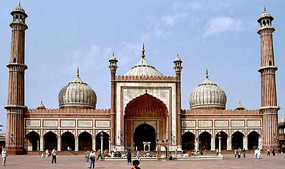 This biggest mosques in India is a magnificent architectural gift by Great Emperor Shah Jahan. The construction works Completed in 1658. This mosque has three gateways, four angle towers and two minarets. You can enter the mosque but take precaution to take off your shoes and make sure that you are properly dressed before entering. One can also go to the top of minarets. You will get a bird's eye view of Delhi on the top of this mosque.
Delhi SightSeeing Places
Red Fort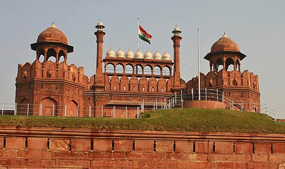 Built by the great Mughal emperor Shah Jahan in 1648, The Red Fort or the Lal Qila is located in the heart of Old Delhi and was previously known as Qila-e-Mu'alla of the then Shahjanabad, Shah Jahan's new capital. The fort has two main entrances, the Delhi Gate and the Lahori Gate facing the famed Chandni Chowk market. The Fort has Diwan-e-Aam, and Diwan-e-Khas where the king would grant audience to the public and would grant audience to important people respectively Adjacent to this is the Rang Mahal, the water cooled Apartment for the royal ladies. A Light and Sound show is held in the evening.
Delhi SightSeeing Places
Rajghat
Raj Ghat is the cremation site of Mahatma Gandhi Raj Ghat, and it is one of the most visited sites in Delhi. It consists of a simple square black-marble platform that stands on the spot where Mahatma Gandhi was cremated. Also you can see cremation sites of Jawaharlal Nehru - the first Prime Minister of India, Indira Gandhi, Sanjay Gandhi, Rajiv Gandhi and Lal Bahadur Shastri nearby Rajghat.