A beautiful blend of sea, sand and sun, Daman and Diu is god's gift to those who are in search for a blessed land where the weight of a fast paced life can, for a while, be lightened and the soul can hear the music of nature. Hoka trees, a rare specialty in India is only found in Daman and Diu. The best places to visit on this tiny island are:
Diu fort:
One of the prominent places on a travelers list is the Diu fort. Expansive and imposing structure that it is, the Diu forts commands a magnificent view f the sea. Rugged yet gentle, fierce yet loving. The majestic structure is bounded by the sea on three sides. On the fort stands a giant light house. Quite a few cannons still stare in a sinister way from the top. Once inside, you are weighed down by the gaunt splendor of the ancient stone work which transports you to a long-gone era of gallant soldiers where time stands still.
Fort de mar/ Fortim-do-Mar:
A magnificent and unique site to visit in Diu, this famed monument has an excellent stone structure. Positioned precisely at the opening of the creek, this monument boasts of a fabulous lighthouse and tiny chapel sanctified to Our Lady of the Sea. It is roughly a nautical mile away from the Diu jetty and is accessible by a canoe or a motor launch.
The fortress of Panikotha or Fortim-do-Mar in Diu looks absolutely stunning whether captured from the village of Ghoghla, from the jetty, from the Fort, or from Diu. Sitting in the heart of the sea, this monument is an outstanding scene to savor.
Nagoa Beach: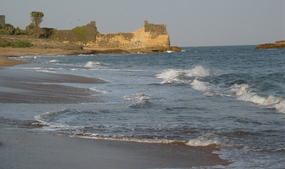 Located near the Nagoa hamlet of the village of Bucharwada, Nagoa beach is exceptionally beautiful and peaceful. This horse-shoe shaped beach provides an assortment of water sports facilities and is entirely safe for swimming. A perfect semi circle beach where the calm lapping waves beckon you to wade into them for a fun filled time of swimming, gamboling or just lolling around the soft sand shores or to find you slumbering beneath the palm trees filled with the soothing gentle wind.
Mandvi:
Mandvi is a charming township with many old buildings, located on the banks of the Rukmavati River, barely one km away from the Arabian Sea at the Gulf of Kutch. The town has a very pleasant climate throughout the year. While the sun-kissed sands and warm tropical waters make Mandvi Beach a great holiday destination, Mandvi's Palace is one of the grandest in Gujarat state and has a museum of princely heirlooms. The palace estate has been the location for filming many Bollywood Blockbusters.