Goa
Goa beaches:
Goa beaches are world famous and it attracts thousands of tourists every year. The long sandy coastline makes the place perfect for its multitude of beaches. Here you will get whatever you are looking for, luxury resorts to make shift huts, Tran's parties to tranquility. If you are looking for water spots you can head to Banga, Arambol is the best option if you want to hang with hippies, and if you are a person who wants to spent time in solitude and calm, go for Agonda or Patnem beaches.
Anjuna Flea Market: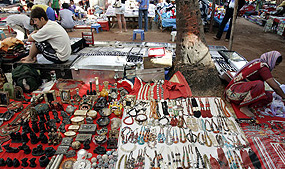 If you are interested in shopping and looking for a place to hangout, Anuna flea market would be the best one. It's held every Wednesday from morning until evening on the southern edge of Anjuna beach. The market has got more than 500 sells and it attracts people from all over Goa. Make sure you are goo in bargaining, you will get plenty of goods there. Saturday night Market in Arpora is also famous for shopping. Along with shopping it offers entertainment, live music and an electric range of food.
Old Goa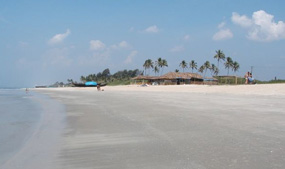 Once it was the capital of Portuguese and thus have handful of imposing churches and cathedrals. These buildings have now become the archeological museums and display the fascinating history of Goa. Convent and Church of Saint Francis of Assisi is one of the most interesting buildings in Old Goa. It is built in 1521. Basila of Bom Jesus contains the preserved remains of the body of Saint Frances Xavier. Every 10 years the body is shown to the public, next exhibition due in 2014. Old Goa is situated near Panaji, capital of Goa.
Wildlife Sanctuaries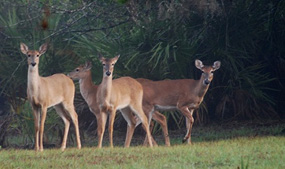 Other than beaches and churches, around 20% of Goa consists of wildlife sanctuaries. Western Ghats is home to an array of birds and animals. The wild life sanctuaries are open throughout the year. Bhagvwan Mahvir and Cotigao are two main sanctuaries. Dudhsagar Falls situated on the fringe of Mollem National park. Accommodation provided by Goa Forest department. You can try mud hut in Shanthi Nature Resort in Mollem, it will provide you an eco- friendly stay.
Spice Plantations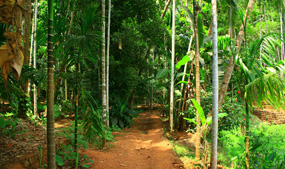 Spicy plantations around Ponda is very famous, the tropical climate and dense forests make it an ideal place to grow spices. Sanoi plantation is another important spicy plantation in Goa. Then you can check in with Sahakari Spice Farm, Pascol Spice Village, Abyss, and the Tropical Spice Plantation.