Gujarat
Ahmedabad:
Ahmedabad is known as the Textile city of India. The place shares a mixture culture of ancient heritage and vibrant modernity. The place can offer you various attractions like monuments, religious sites, lakes and amusement parks. The rare type of Indo-sarcenic architecture is one of the specialties of the place. This architecture is famous for its Hindu Islamic blend. Jama Masjid in Ahmedabad shares this type of architecture. Narayan temple, Kankaria Lake, Sabarmathi Ashram are some other important places you can check out.
Gandhinagar: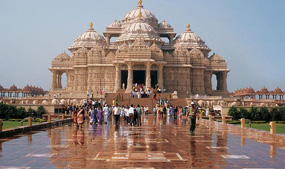 It is created 32 km north-east on the west bank of Sabarmathi River. It is India's second well planned city. Akshardam is a unique cultural complex built in Gandidam in memory of Lord Swami Narayan. This monuement is built by using 6000 tons of pink sand stone. The entire monument is built without steel. A seven-ft gold leafed idol of Lord Swaminarayan and his holy relics, three different shows on Indian Culture with light and sound and an animatronics show are the other highlights of the monument.
Vadodara: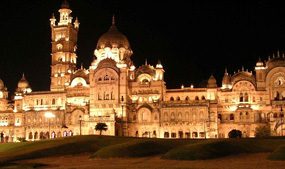 Vadodara was earlier known as Baroda, is the cultural capital of Gujarat. It is a charming city of monument, palaces, religious sites and museums. Nazarbaug palace, Lakshmi Vilas Palace and Prathap are some of the old palaces bult in old classical and ornate style. These palaces feature a collection of old armory and bronze, marble and terra-cotta sculptures. Museums at Vadodara are known for art and archeology collection. Tourists should not miss to see the Shoolpaneshwar Wildlife Sanctury. It will offer an auspicious view of plant and animal life.
Surat: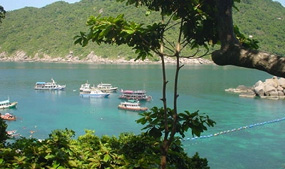 Surat is a famous for its textile mills, saris and diamond cutting centre. The place is located on the banks of Tapti. People visit this place to buy fine silk and brocades woven with gold and silver threads. The old Fort is a wondrous Fort made by Mohammad Tuglak in 14th century. Duma is a wholesome seaside health resort where people travel to enjoy their holiday and and spend quality time with their family. Hajira beach is another wonderful holiday spot sought by visitors.