Madhya Pradesh
Bandhavgarh and Kanha National Parks:
Bandhavgarh and Kanha National Parks are among the top national parks in India. However it is difficult to reach this place but this is the best place to see tigers in the wild in India. The sprawling Kanha National Park has the honor of providing the setting for Rudyard Kipling's classic novel, The Jungle Book. The park is well regarded for its research and conservation programs, and many endangered species have been saved here. Elephant safaris are also offered at Bandhavghra. Both parks can be explored on jeep safari.
Khajuraho Temples: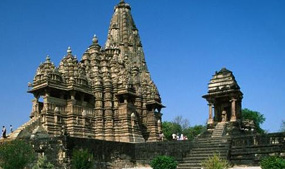 Khajuraho is one of the top historic tourist destinations in India. It gives you proofs for kamas Sutra sculpturs. Here more than 20 temples abounding in erotic sculptures. They show a celebration of love, life and worship.
Gwalior: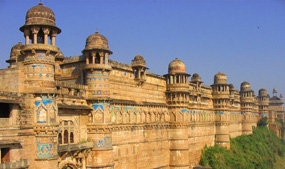 Gwalior is only two hour's drive from Agra and Taj Mahal in Uttar Pradesh. The massive hilltop fort is another main attraction. This fort is reputed to be one of the most invincible fort in India. It has to tell the history of 1000 years. Inside the fort wall there are numerous temples and palaces. Man Mandir Palace is the highlight. At the bottom of the fort is the Old Town of Gwalior, which brings the fine examples of Mughal architecture such as the Tomb of Tansen. The Tansen Music Festival is held at the tomb every December.
Orchha: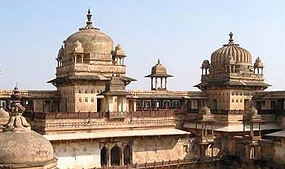 Located on the banks of the Betwa River,it is a comfortable hour and a half south of Gwalior. It's another relatively peaceful place, full of well preserved palaces and temples, with a distinctly medieval charm. Three main palaces are enclosed in Orccha's fortified walls. The Jahangir Mahal is the largest and most impressive, and its upper levels offer some arresting panoramic views. A stay inside the Jahangir Mahal, at the Hotel Sheesh Mahal, would be a wonderful experience. It is not luxurious as it is a government hotel, but it is full of character.
Mandu: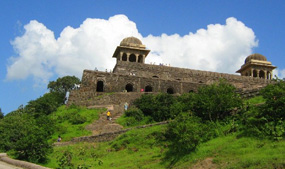 Mandu was once the lavish home of the Mughals, who indulged themselves by its many lakes and palaces. Mandu's crumbling buildings, encircled by a long 45 kilometer (28 mile) stretch of wall with 12 gateways, still hint of its pretentious past. It's a superb place to retreat from the everyday chaos of India. There are three different areas where the attractions scattered. The Royal Enclave Group, Jahaz Mahal (Ship Palace), the Jama Masjid mosque and Hoshang's Tomb. To the south lie Baz Bahadur's Palace and Rupmati's Pavillion. The pavilion is the perfect site to watch the sunset.