Are you are one of those people whose perfect day involves an adrenaline rush from a frightening ride that makes you go weak in your knees? Love getting turned upside down several hundred feet above the ground and scream your head off? Then we have just the thing for you brave adventurous people. Few structures drop you down faster than in sky diving, take you to a height higher than the Statue of Liberty and make you pray silly for your life. What is it? Roller coasters! Hold on tight as we bring you the most spine-tingling, hair-raising free fall roller coasters in America.
X2, Six Flags Magic Mountain, Los Angeles (Valencia)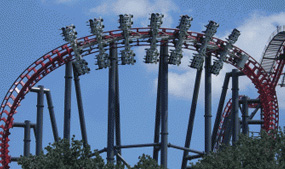 The world's first "fourth dimensional" ride that offers 360-degree rotating seats and head first face down drops is the X2 in Six Flags Magic Mountain. The ride is spine-chilling with immersive tunnels, audio and visual enhancements and sleek wing shaped trains. The trains have seats that extend off the tracks to the sides, allowing riders to independently swivel head over heels, forward and backward- rendering mind-bending dimensional effect.
Fahrenheit, Hershey Park, Hershey, Pennsylvania
Hershey, the so-called "sweetest place on Earth" got edgier when they opened an inverted loop "lift" coaster-the Fahrenheit. This majestic ride swoops up riders to 121 feet above ground only to pitch them right back down in a gut wrenching, 97-degree negative drop, which is supposed to be the steepest drop in the U.S. . At the 121-foot crest, the forthcoming drop is at such a sharp incline that the only thing riders in the trains see is- nothing! No track at all. After you survive that first drop, there is more to come: a 107-foot inverted loop, an inverted corkscrew roll, cobra element, airborne inverted S-roll, another inverted corkscrew, a little airtime hill (stomach floating), a high-speed banked curve, another hill, and yet another high-speed banked curve to end it. All this action takes place in about 85 seconds- less time than it takes to polish off a Hershey bar.
Insanity, Stratosphere Hotel and Casino, Las Vegas: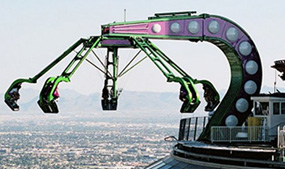 A verity that each person who has been to the top of the Space Needle-like stratosphere Hotel in Vegas knows only too well- all scariest rides are roller coasters. Insanity, aptly named, is perched over Strip; the most frightening of the Stratosphere's three rides is this electric-green-colored centrifuge. It extends 64 feet over the edge of the sleek hotel tower. This harrowing ride spins at a speed of over 40mph when the seats-arms open outwards to 70 degree angle to provide the ultimate scariest experience of the city view and the road 900 feet below!
Top Thrill Dragster, Cedar Point, Sandusky, Ohio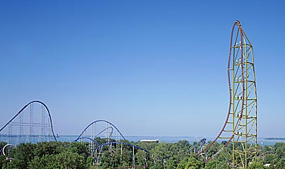 A "scariest rides" list is deficient without mentioning atleast one of the 17 roller-coaster rides at the self-proclaimed home of the roller coasters, Cedar Point. Opened in 2003, the Dragster is one of the tallest and the fastest coasters in the world. The Top Thrill Dragster with an altitude of 420 feet reaches a speed of 120 miles per hour within 4 seconds; and a drop of 400 feet. However, 17 seconds later you will be sitting dumbstruck at the end point.
Kingda Ka, Six Flags Great Adventure, Jackson, New Jersey: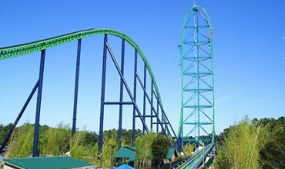 The Kingda Ka is given honors for being the tallest and fastest coaster on earth. Also called the daddy of roller coasters, this terrifying ride gives you 50 seconds of sheer terror, with 456 feet height and 128 mph speed. It reaches its top height in just 3.5 seconds and has a 270-foot spiral like an inverted firecracker on its way down. The riders go through so much spinning action that riders experience positive and negative G force on this extraordinary trip.